Energy Storage
ees is the international exhibition for batteries and energy storage systems.
It brings together manufacturers, distributors, project developers, system integrators, professional users and suppliers of innovative battery technologies and sustainable solutions for storing renewable energies such as green hydrogen and Power-to-Gas applications.
ees is part of The smarter E.
ees Events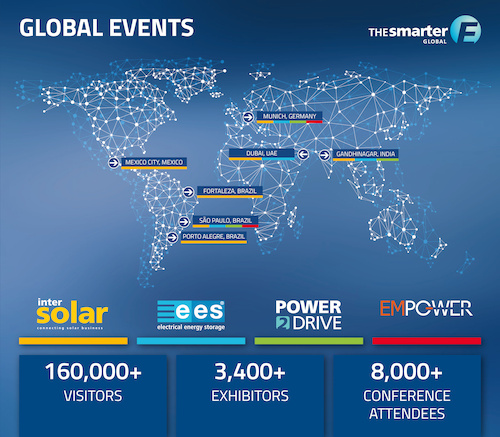 ees Europe | Munich, Germany – Exhibition & Conference
ees South America | São Paulo, Brazil – Exhibition & Conference
ees India | Gandhinagar, India – Exhibition & Conference
Intersolar & ees Middle East | Dubai, UAE – Exhibition & Conference
ees AWARD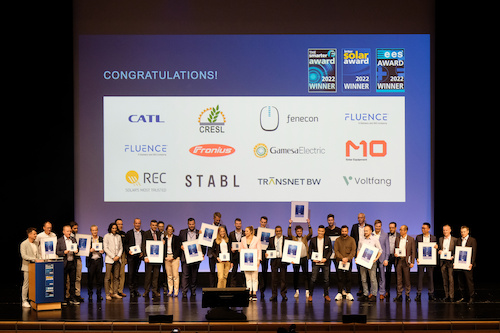 The ees AWARD pays tribute to pioneering products and solutions for stationary and mobile electrical energy storage systems. The range of innovations encompasses the entire value-added chain of innovative battery and energy storage technologies – from components to concrete applications and business models.
The Mission and Vision of ees – electrical energy storage
Innovative energy storage solutions decouple power generation from electricity consumption. That is why they are indispensable for achieving a sustainable energy supply from renewable sources – with tasks ranging from stabilizing the power grids to electric transportation.
Our goal is to help companies and drivers of the global growth markets to develop and distribute technologies and business models, in addition to fostering the development of international energy storage markets.
With ees – electrical energy storage, we have created a professional platform for the energy storage industry to showcase companies' achievements and innovations, and to establish connections with new, emerging markets. ees is the the leading exhibition series for batteries and energy storage systems and the ees exhibitions and accompanying conferences are devoted to storage solutions for renewable energy, from domestic and commercial applications to large-scale storage systems for stabilizing the grids.