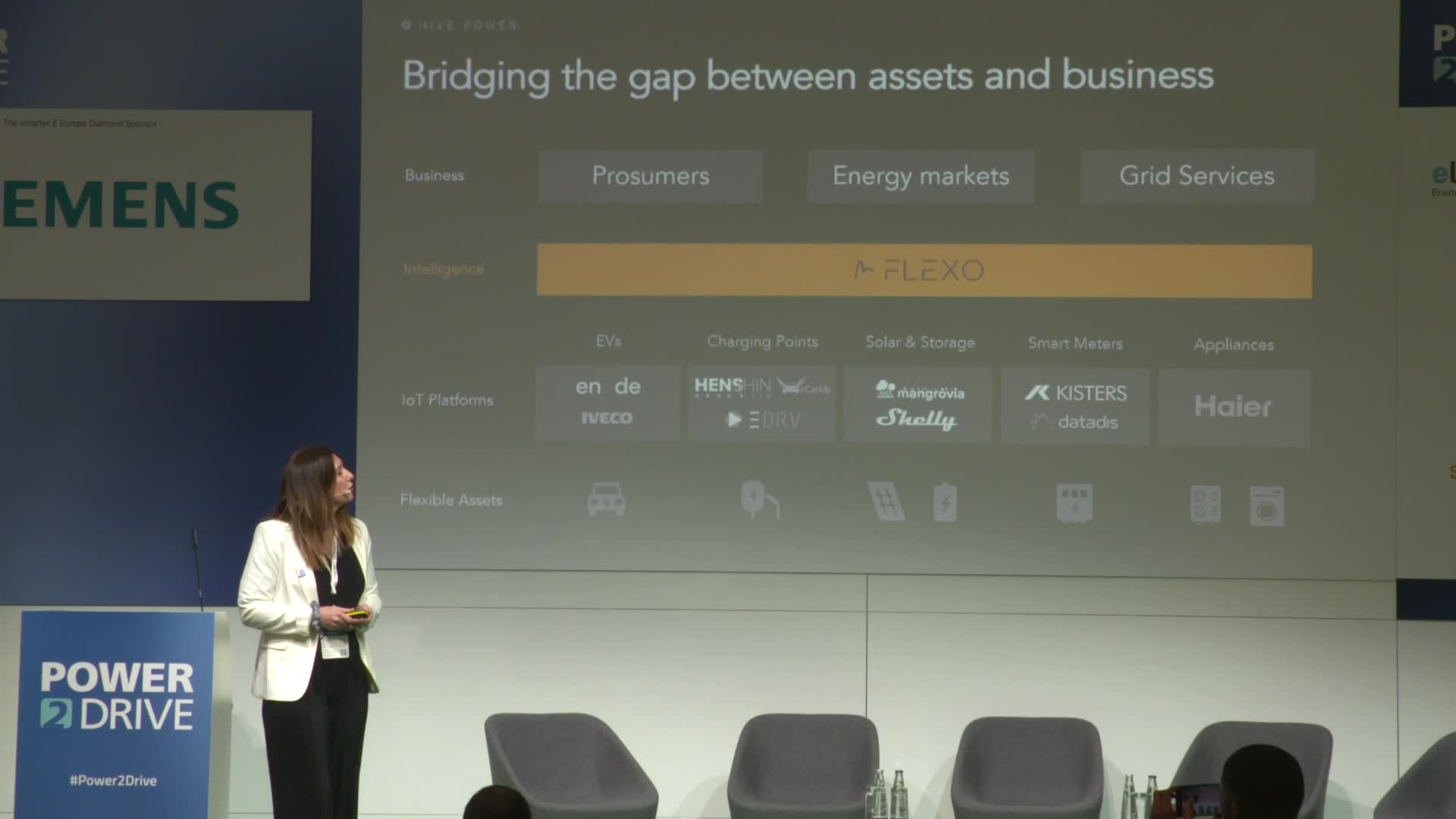 Recording of Wednesday, June 14, 2023 | The smarter E Europe Exhibition Program 2023 | Exhibition Program | Language: English | Duration: 8:29 .
Power2Drive AWARD Winner 2023
Founded in Switzerland in 2017, Hive Power develops charging and export solutions for tomorrow's power grids. Now an award-winning software-as-a-service platform, FLEXO Smart Charge offers advanced vehicle-to-grid capabilities, optimized charging and detailed cost-benefit overviews for EV fleet managers and OEMs. It uses cloud-based learning to aggregate electric vehicle fleets and connect them to energy markets, maximizing the profitability of the vehicle-to-grid business model and minimizing operating costs. The hardware-independent platform is also designed for dynamic, load-variable electricity tariffs. Via a user-friendly app, it keeps electric vehicle owners informed about their income while optimizing charging times and costs. The panel was particularly impressed by the fact that Hive Power's solution increases the profitability of e-vehicles while creating reliable and environment-friendly energy networks.
Speaker
Johanna Jayne Izett, Senior Account Executive, Hive Power SA
Talk of session: Power2Drive AWARD Finalists 2023
Electromobility innovations are driving the modernization of both the energy and the mobility transition around the world and are at the top of the list for investors. The brand-new Power2Drive AWARD seeks to honor those industry innovations whose concepts and technologies have already made an important contribution to an intelligent, sustainable mobility transition. In this session, selected Award finalists will be showcasing their innovations from the worlds of e-mobility, charging infrastructure, bidirectional charging solutions, mobility services, fleet solutions, payment systems and data security, traction batteries as well as battery and energy management. Moderator: Marcus Zacher, Editor in Chief, elektroautomobil, Germany
Further Talks of this session:
ChargePost
Smart Charging Infrastructure Architect
Charging Plug Cool-Load Megawatt (3-12 MW)
Helios: Solar Charging Station for Personal Mobility Vehicles
Technagon: Simplification of Calibration Law and Service Through Modular Charging Stations
TWAICE Mobility In-life Battery Health Analytics
SIRIUS by Wallbox
ICC1324 Charge Controller for AC Charging