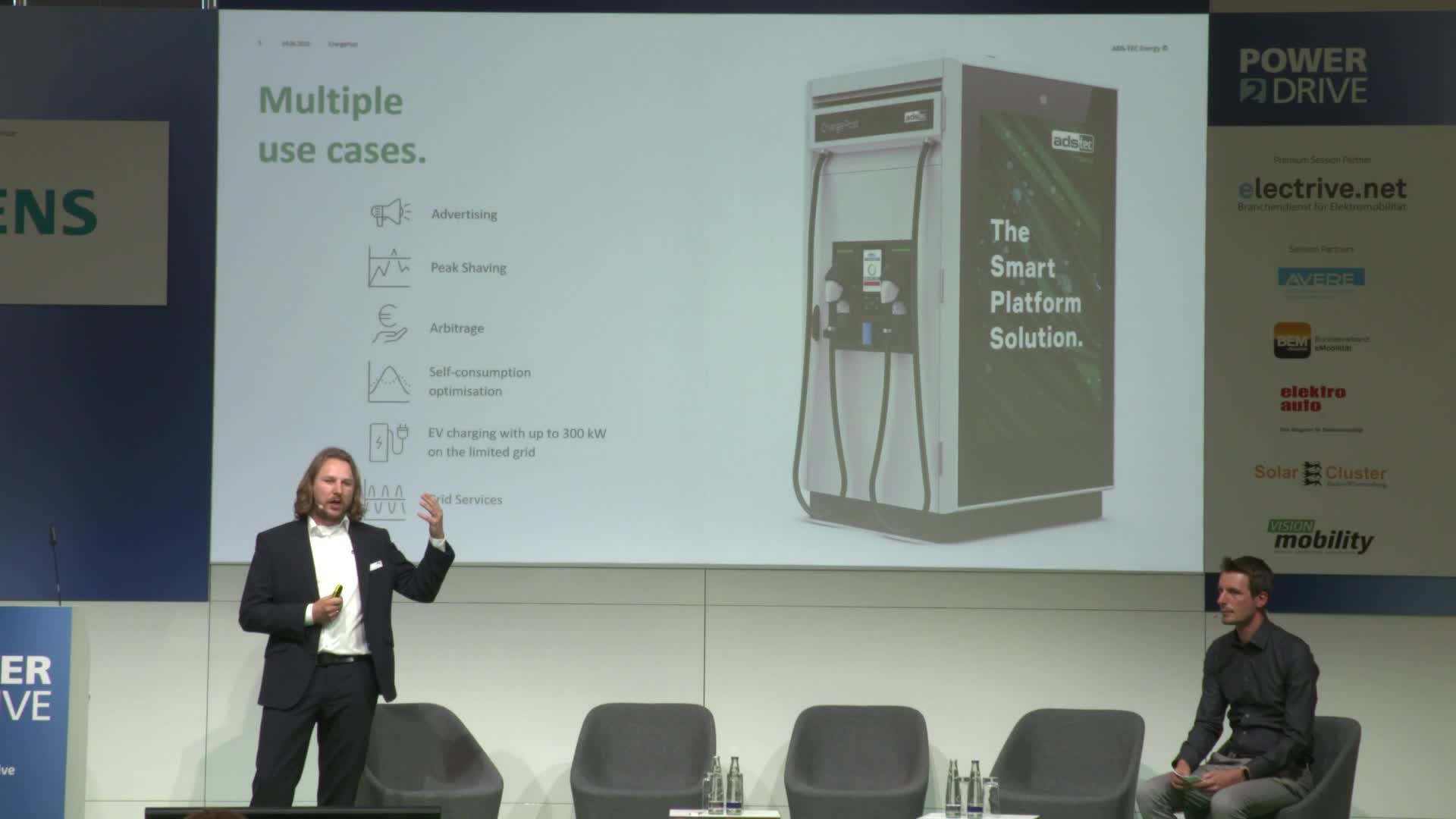 Recording of Wednesday, June 14, 2023 | The smarter E Europe Exhibition Program 2023 | Exhibition Program | Language: English | Duration: 9:18 .
Power2Drive AWARD Finalist 2023
This compact charging station has a footprint of less than two square meters and consists of a backup battery with a capacity of at least 200 kilowatt hours, power electronics, a cooling system and one or two charging points with a combined output of 300 kilowatt. Two optional 75-inch displays that can be used for advertisements to generate additional income. Even at significantly lower grid-connected loads, ChargePost is able to provide the backup battery storage with high charging power for electric cars. What's more, ChargePost can be used as a storage device in a photovoltaic system.
Speaker
Sascha König, Director Product Marketing Services, ads-tec Energy GmbH
Talk of session: Power2Drive AWARD Finalists 2023
Electromobility innovations are driving the modernization of both the energy and the mobility transition around the world and are at the top of the list for investors. The brand-new Power2Drive AWARD seeks to honor those industry innovations whose concepts and technologies have already made an important contribution to an intelligent, sustainable mobility transition. In this session, selected Award finalists will be showcasing their innovations from the worlds of e-mobility, charging infrastructure, bidirectional charging solutions, mobility services, fleet solutions, payment systems and data security, traction batteries as well as battery and energy management. Moderator: Marcus Zacher, Editor in Chief, elektroautomobil, Germany
Further Talks of this session:
Hive Power FLEXO Smart Charge
Smart Charging Infrastructure Architect
Charging Plug Cool-Load Megawatt (3-12 MW)
Helios: Solar Charging Station for Personal Mobility Vehicles
Technagon: Simplification of Calibration Law and Service Through Modular Charging Stations
TWAICE Mobility In-life Battery Health Analytics
SIRIUS by Wallbox
ICC1324 Charge Controller for AC Charging