Start-up Story – May 31, 2023
Hotels aren't the only beneficiaries of the complete energy management package offered by EnExpert.
The energy management system by the Italian start-up company helps hotels and industrial companies lower their energy costs. The system features wireless sensors that transfer high-resolution data and are quick and easy to install.
Many start-ups are the result of people sharing a good idea and finding an application for it. For EnExpert, it was the other way around. Triggered by the energy crisis, the electrical engineer Alexander Sellemond received a steady stream of requests from hotels in his home region of South Tyrol looking for ways to reduce their costs.
The hotels knew every aspect of their cost structure for goods and staff, but had little details on their energy consumption. Sellemond was able to identify a number of energy guzzlers, but soon became aware of the technical limitations of his analyses: He was unable to measure what was happened behind the electricity meter.
Together with Julian Sommavilla, Sellemond came up with the idea of developing an energy management system that used sensors to measure actual consumption. Having previously analyzed data for online retailers, the economist Sommavilla was familiar with suitable methods. The two entrepreneurs spent a long time searching the market for the right sensors for their concept. "They needed to be wireless and non-invasive. The installation needed to be so simple that it wouldn't require special training, so that facility managers could basically do it themselves," Sommavilla explains. But the two founders of EnExpert were unable to find a sensor that met their requirements. "Instead of analyzing data, we had to develop sensors first. So we had to order samples, select printed circuit boards, create concepts – all in the midst of the chip shortage," Sommavilla remembers.
But they finally were satisfied with the result. "The sensors are the core of our technology," he says. The small boxes can be attached to the cables or pipes from the outside. Depending on the type, the sensors either measure the electrical power, the temperature or the flow rate of gas or water pipes using ultrasound – all in two-second intervals. To put this into perspective, standard smart meters send readings at 15-minute intervals, which is insufficient to register short peak loads, such as a washing machine or cold store starting up. With EnExpert's sensors, all data is available at a high resolution, which is necessary for determining the actual energy flows. Ten sensors worth a few hundred euros are a good start for medium-sized companies, according to Sommavilla. The energy management system also integrates existing data, for instance, from solar inverters.
Using a Long Range Wide Area Network (LoRaWAN), data from various sensors is transmitted to a central unit, which uses a SIM card to upload the data to a cloud server for the actual evaluation. The result: a clear visualization of all energy data on one shared dashboard.
High Potential for Energy Savings in the Industrial Sector
Industrial companies can also benefit from the detailed information provided by the measurements. "For hotels, the share of energy in their total costs has risen from three to five percent previously, to eight to ten percent. This figure can be as high as 20 to 35 percent for some industries. So the savings potential here is a lot higher," says Sommavilla. But even companies with a high energy consumption often lack consistent energy management systems. Apparently, it is rare to have measurement data for individual production areas, and even where such data are available, companies often don't have a centralized dashboard to give them an overview.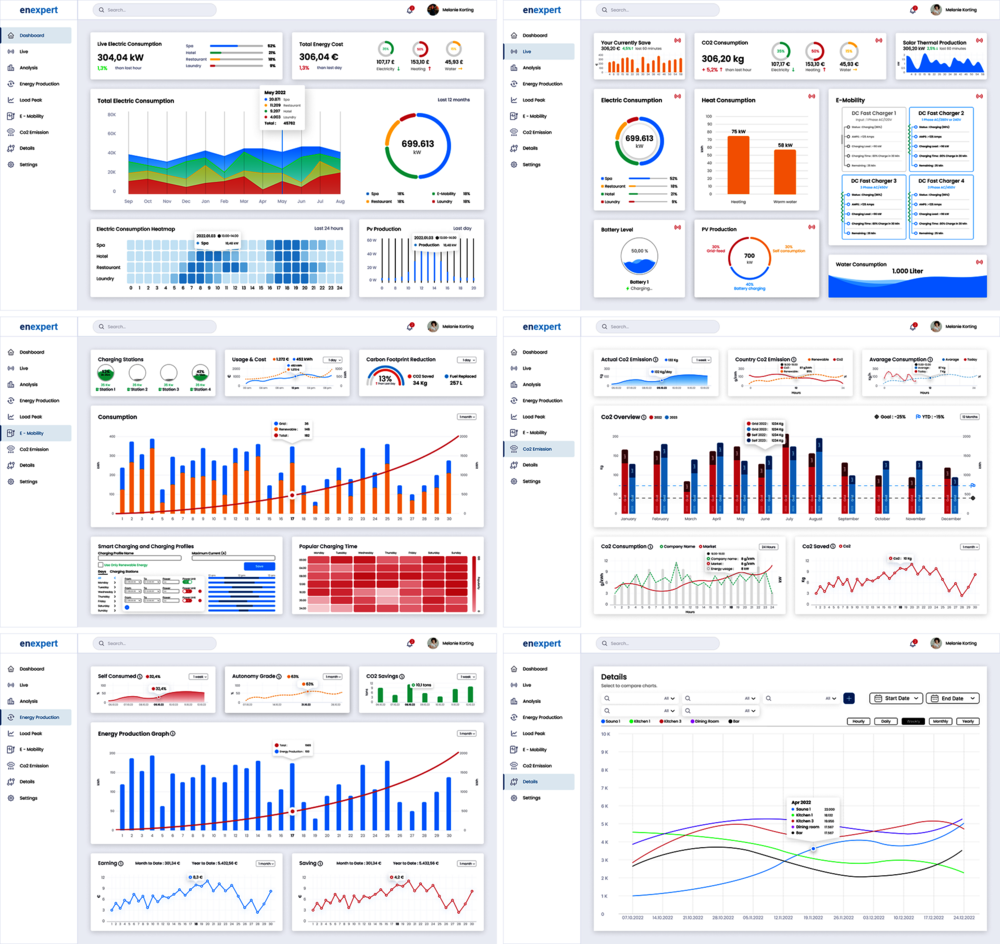 ©EnExpert
To date, EnExpert has implemented about twenty projects in hotels and industrial companies. Instead of carrying out the installation work themselves, the start-up now works with external installers. "This has significantly increased implementation speed," says Sommavilla. The core team now also includes a marketing specialist and a designer for user experience. "We have invested a lot of time into the intuitive visualization on the dashboard, which is one of our core competencies," says Sommavilla. The start-up also employs three programmers working on software development.
For companies with more than 250 employees, EnExpert offers a special additional benefit: The energy management system allows for the EU energy audit, which is due every three years, to be largely automated.
Energy Savings: 20 Percent is almost always achievable
It is difficult to accurately determine where the energy management system achieves actual savings. "If we identify a particularly inefficient machine which is then replaced – is this part of energy management or modernization?" Sommavilla asks. Hotels that have not looked into optimizing their energy efficiency previously can quickly achieve savings of 20 percent. In subsequent years, processes can then be optimized by balancing self-generated power with consumption, for example.
EnExpert's primary target group are small and medium-sized companies, but also hotels. "If your consumption is more than 50,000 kWh annually, this is where things start to get interesting," Sommavilla states. More and more companies use the system through utility companies and municipal utilities that nowadays have to offer their commercial customers more than just electricity.
EnExpert's focus here is the complete service package. "We find the perfect location for our sensors, set up the dashboard, check the consistency of the data and review the monthly reports with our clients and work out measures with them to save energy and costs," Sommavilla summarizes.