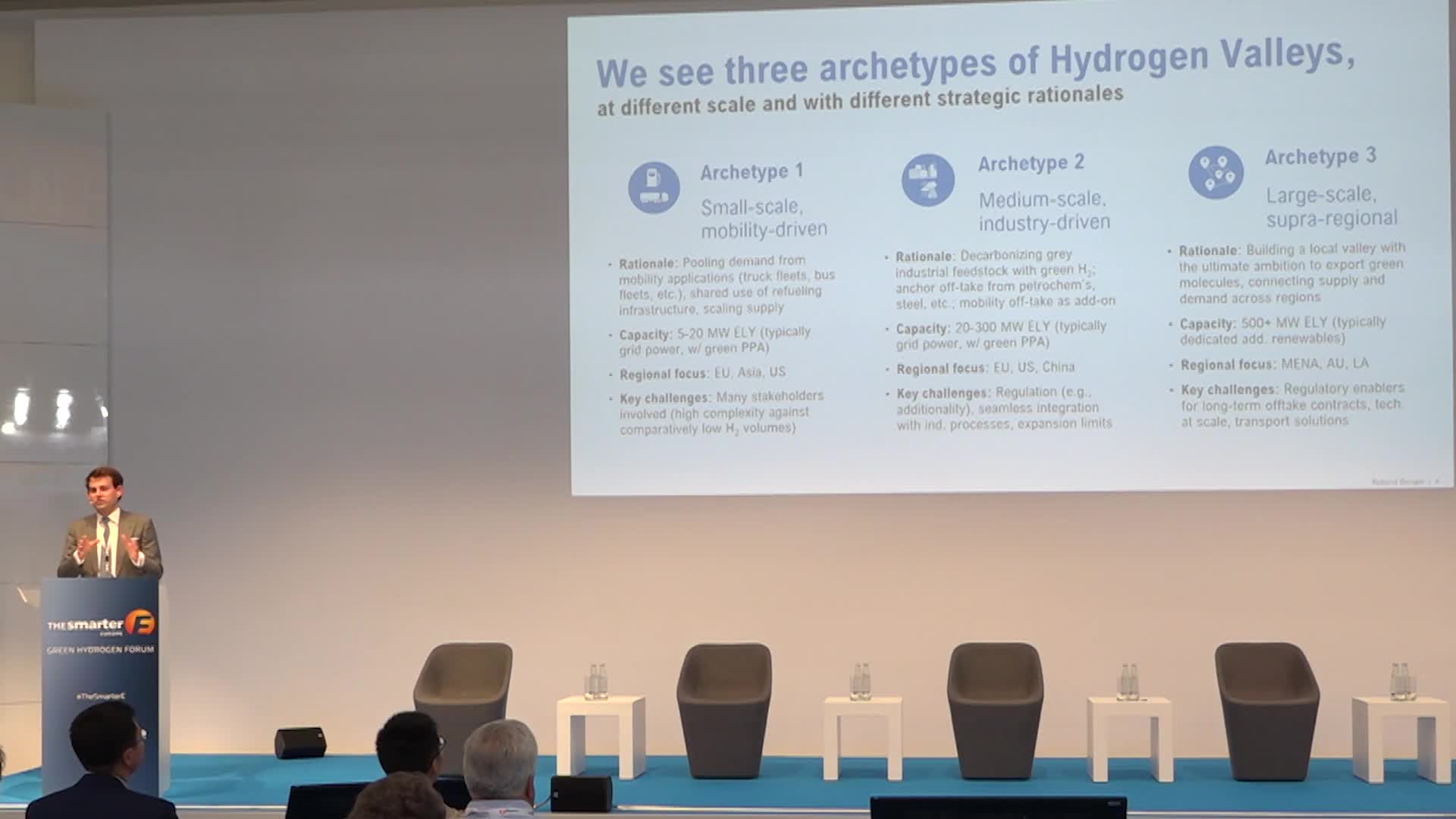 Recording of Wednesday, June 14, 2023 | The smarter E Europe Exhibition Program 2023 | Exhibition Program | Language: English | Duration: 17:51 .
Speaker
Markus Kaufmann
Principal
Roland Berger
Germany
Talk of session: Turning on the Engine
Hydrogen technology and supply have been gaining strategic importance globally. In a context of climate change, supply chain crisis and war, the yet young technology has been put on top of the agenda of all the big economic zones. Europe's first move has been answered by actions of China and lead to reaction by the USA. The session discusses what policy makers should do and effectively do, how industry adapts and adopts, and how this translates into industrial action.
Further Talks of this session:
Welcome and Introduction
Speaker
Bart Biebuyck (Moderator)
Chief Executive Officer
Hybart
Deutschland
Insights from the European Commission
Speaker
Dr. Rudolf Kempener
Member of Cabinet
European Commission
Belgium
Decarbonising the Heat Sector: Why Hydrogen will Play a Role
Speaker
Jean Pierre Vial
Product Owner Floorstanding Gas Boiler, Fuel Cells and Hydrogen Activities
Viessmann Werke GmbH & Co. KG
Towards a Green Hydrogen Economy - Electrolyzer Business and Decentralized Fuel Cell Systems
Speaker
Wayne-Daniel Kern
Vice President Commercial Responsibility - SOFC
Robert Bosch GmbH
Deutschland
EU's Green Hydrogen Auction for 800 Million Euro in 2023
Speaker
Ewelina Daniel
Policy Officer, DG CLIMA Unit C.2 - Low Carbon Solutions (II): Research & Low Carbon Technology Deployment
European Commission
Belgien
Q&A and Closing