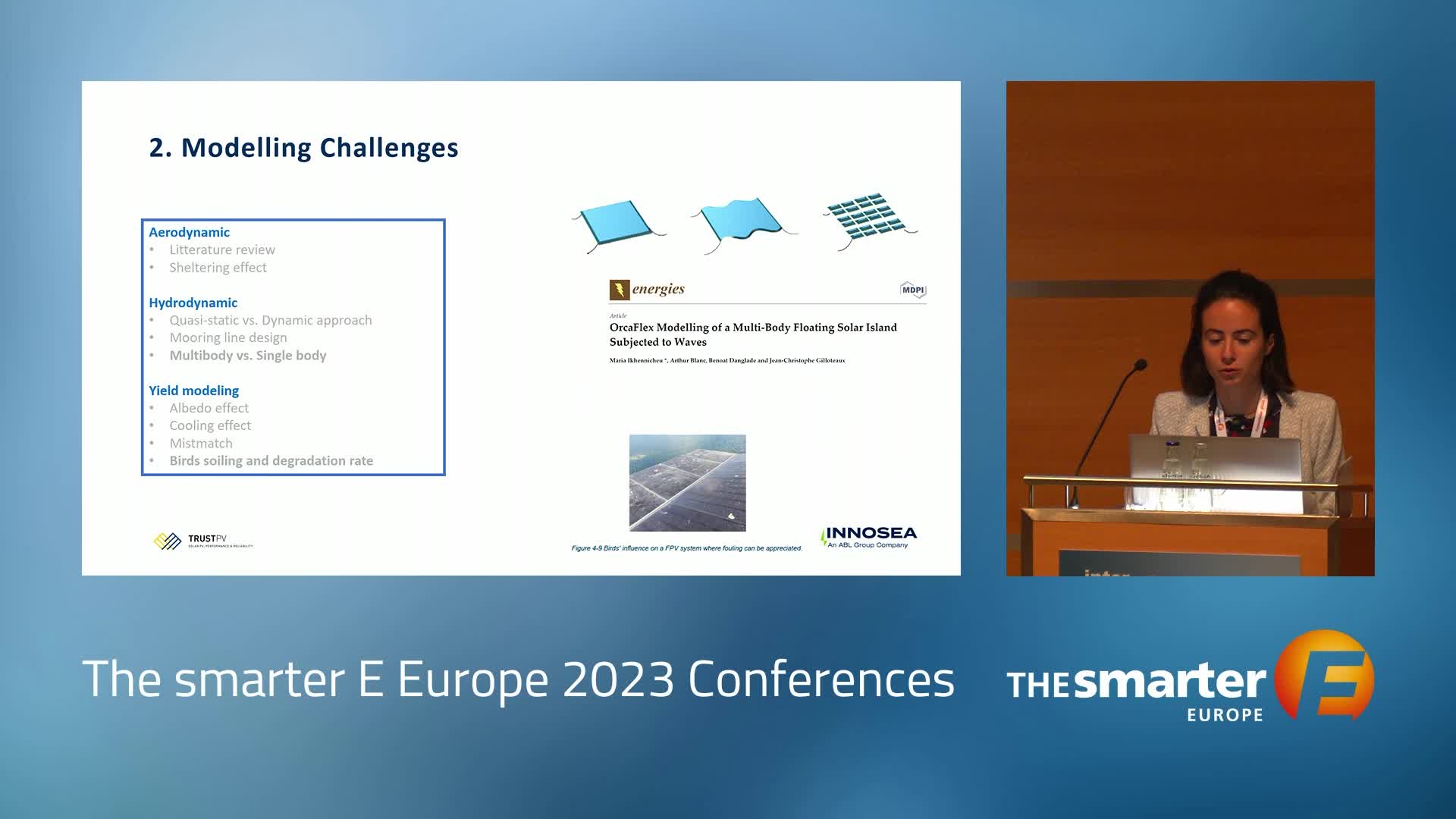 Recording of Tuesday, June 13, 2023 | The smarter E Europe Conference 2023 | Conference Program | Language: English | Duration: 17:38 .
Speaker
Maria Ikhennicheu
Specialist Engineer
Innosea
Frankreich
Talk of session: Floating Solar Power I: Expanding Onshore and Emerging Offshore
Floating PV (FPV) has become established as an alternative PV power plant application for regions that either have space constraints or that are looking to protect water reservoirs from pollution and evaporation. As total FPV onshore deployment worldwide is expected to reach double-digit GW output soon, the industry has started looking at the almost endless surface of the oceans in response to the limited potential of onshore development.
This session will discuss:
The status of the global floating PV market
Lessons learned from developing and operating the first gigawatt PV projects on the water
How to tap into the massive offshore FPV potential
Further Talks of this session:
Accelerating Offshore Floating Solar to GW Scale
Speaker
Francisco Vozza
CCO
SolarDuck AS
Norwegen
Developing Metocean Model Conditions for Floating Solar Locations
Speaker
Magnus Johanessen
Engineer
DNV
Norway
Floating Solar - Latest On- & Off-Shore FPV Developments
Speaker
Jason Sheridan
Senior Research Analyst
S&P Global
Spanien
Hydrosun - Benefits of Large-Scale Hydro-Fpv Hybrid Power Plants
Speaker
Ivar Blekastad
COO
Ocean Sun
Norway
Q&A and Conclusion
Welcome & Introduction
Speaker
Dr. Anna Heimsath
Head of Department "Analysis PV Modules and Power Plants"
Fraunhofer-Institut für Solare Energiesysteme
Deutschland