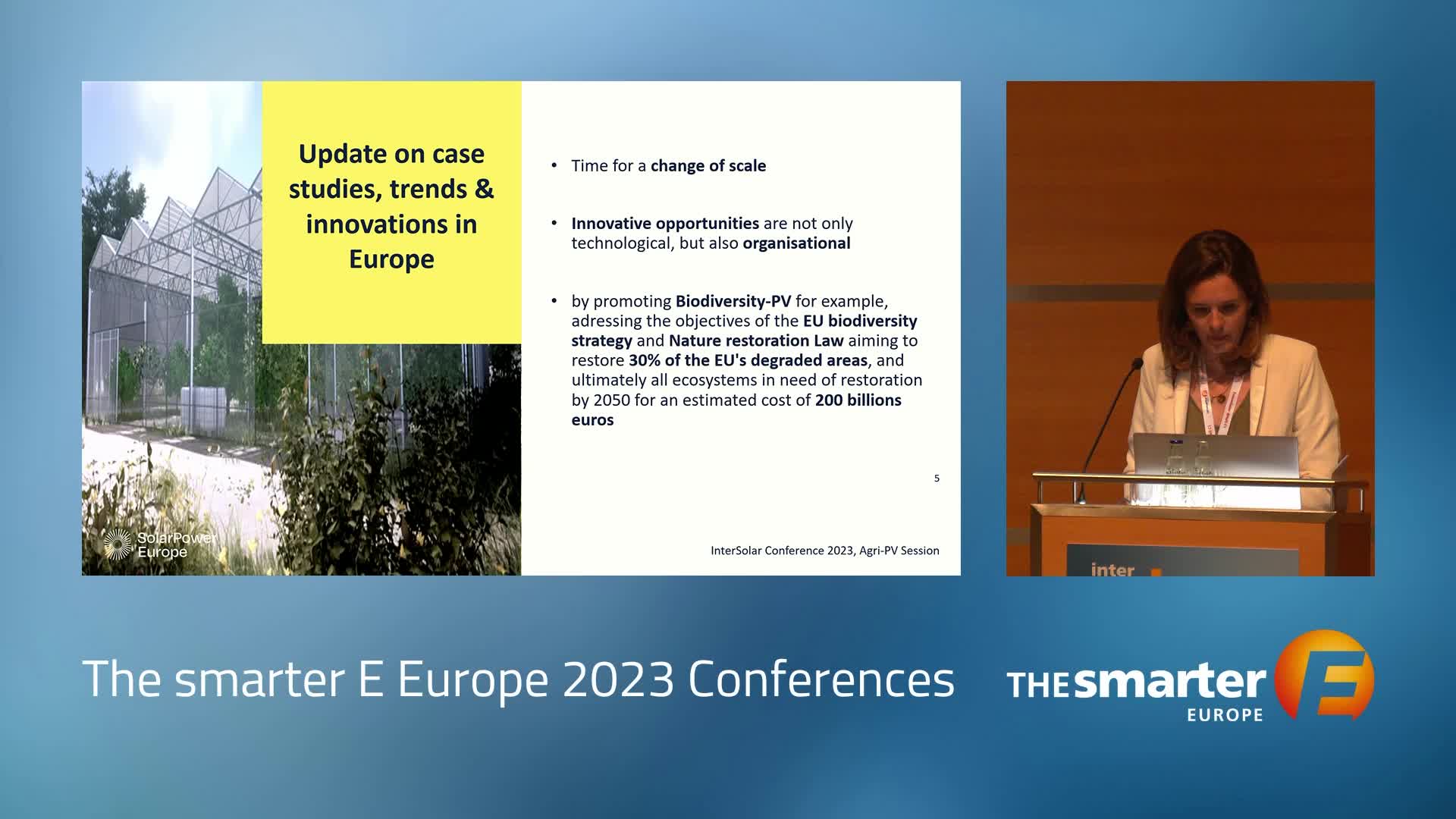 Recording of Tuesday, June 13, 2023 | The smarter E Europe Conference 2023 | Conference Program | Language: English | Duration: 7:51 .
Speaker
Eva Vandest
Head of Public Affairs
Amarenco
Österreich
Stephan Schindele
Head of Product Management Agri-PV
BayWa r.e. Solar Projects GmbH
Deutschland
Talk of session: Agri PV: How to Utilize the Vast Potential for Solar Power in Agriculture
Agri PV has become a buzzword in the solar industry because it can bring together the needs of power plant developers and the food industry. Indeed, co-locating solar energy generation with agricultural operations can optimize space utilization and create multiple revenue streams, which would be a win-win situation. But how complimentary is this approach in reality? And how quickly is Agri PV evolving as the global solar industry is set to require additional space for several hundreds of gigawatts of utility-scale solar power every year
This session will discuss:
Deployment of Agri-PV- Product innovations
Policies and cost considerations for agricultural projects
Panel: What's needed to turn food famers into solar farmers?
Further Talks of this session:
Overview on Operational APV Projects and Relevant Policies in India
Speaker
Subrahmanyam Pulipaka
CEO
National Solar Energy Federation of India: NSEFI
Indien
Panel Discussion: What's Needed to Turn Food Famers Into Solar Farmers?
Tapping the Gigantic Potential of Agrivoltaics in China
Speaker
Hariram Subramanian
CTO Smart PV and Head of PV Competence Center - Germany
Huawei Technologies Co. Ltd.
China
The 5 Cs of Agrivoltaic Success Factors in the United States
Speaker
James MacDonald
Agrivoltaics Innovation
Laborelec
Welcome & Introduction
Speaker